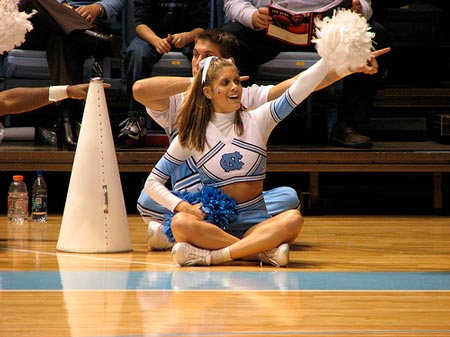 There was a time when cheerleaders were limited to football and basketball season. Competition cheerleading has changed all of that, and some cheerleaders don't even cheer for sports teams anymore.
Cheerleaders have long awaited the recognition of being athletes instead of pretty faces on the sidelines of sporting events. The stunts they perform take balance, coordination, timing, and physical strength. The base of cheerleading is gymnastics. Gymnasts have long been considered athletes; however, cheerleaders don't get the same recognition.
Many argue that cheerleading, competitive or otherwise, is not a sport. Many cheerleaders start out at a very young age and are awarded athletic scholarships to college. In 1986, Shelley Smith, a North Dakota State cheerleader was killed doing a stunt. The same year, University of Kentucky cheerleader Dale E. Baldwin developed quadriplegia after a stunt went wrong.
Missouri Valley Conference barred certain stunts after a Southern Illinois cheerleader fell 15 feet, landing on her head. Banned stunts are: being launched or tossed and formations higher than two levels.
Competition cheerleading breaks new ground for young men and women that want to be recognized as athletes and not just a pep squad. Cheering is a mixture of dance, stunting, and tumbling. Workouts are designed to strengthen ankles, knees, and wrists.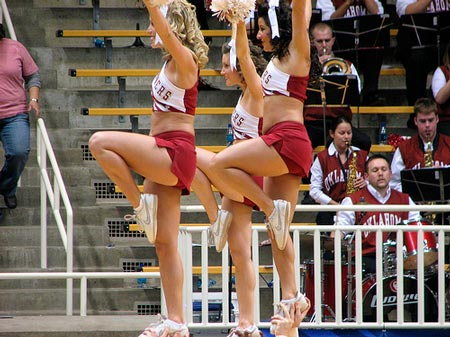 A study was done by Wayne State University, using competition cheerleaders and sideline cheerleaders. The cheerleaders were put through grueling workouts consisting of workouts on treadmills, stationary cycles, and bend-and-reach tests. These tests measured the cheerleaders' workout capacity, flexibility, and lean body mass.
The cheerleaders ranked very high in their strength and fitness - as well as any top-level athlete and showed "superior athletic fitness." The sideline cheerleaders, on the other hand, had less interest in working out and were often late arriving at the lab testing.
Cheerleading also has its place at the box office, with movies like Bring It On, Bring It On Again, and Sugar and Spice. It doesn't stop there. The Lifetime television series, Cheerleader Nation, which ran earlier this year - showcased the training and dedication of cheerleaders and their drive to be the best. Sports network ESPN has various cheerleading competitions in their listing schedule, starting up October 13th.
Arguing that cheerleading isn't a sport seems almost comical, considering bowling has long been considered a sport. Cheerleading deserves its right to be in the spotlight, and the hard work of all cheerleaders showcased. As the competition gets more fierce, so do the stunts and tumbling. Cheerleading has moved into becoming a stand-alone sport, whether sports fans accept it, or not.
Related Sources: https://www.ncbi.nlm.nih.gov/pmc/articles/PMC2775356/
https://pittsylvaniacountyva.gov/252/Cheerleading